Radoslaw Wojtaszek from Poland made a strong impression in today's rapid games and did not have to concede a single game. He leads the Grand Master tournament after the first day ahead of Pentala Harikrishna and Vincent Keymer. A drop of bitterness for all chess fans: The Corona protection measures will not allow any spectators on site this year.
The Grandmaster Tournament of the 53rd Biel International Chess Festival, held in "triathlon" format, started today with seven rounds of rapid games. The identical pairings as in yesterday's ACCENTUS Chess960 tournament were played. The strongest impression today was left by Radoslaw Wojtaszek from Poland, who was able to take revenge for his defeat against Noël Studer in the last round yesterday and thus secured the day's victory. Wojtaszek today only lost points by drawing against grand old man Michael Adams and tournament favourite Pentala Harikrishna.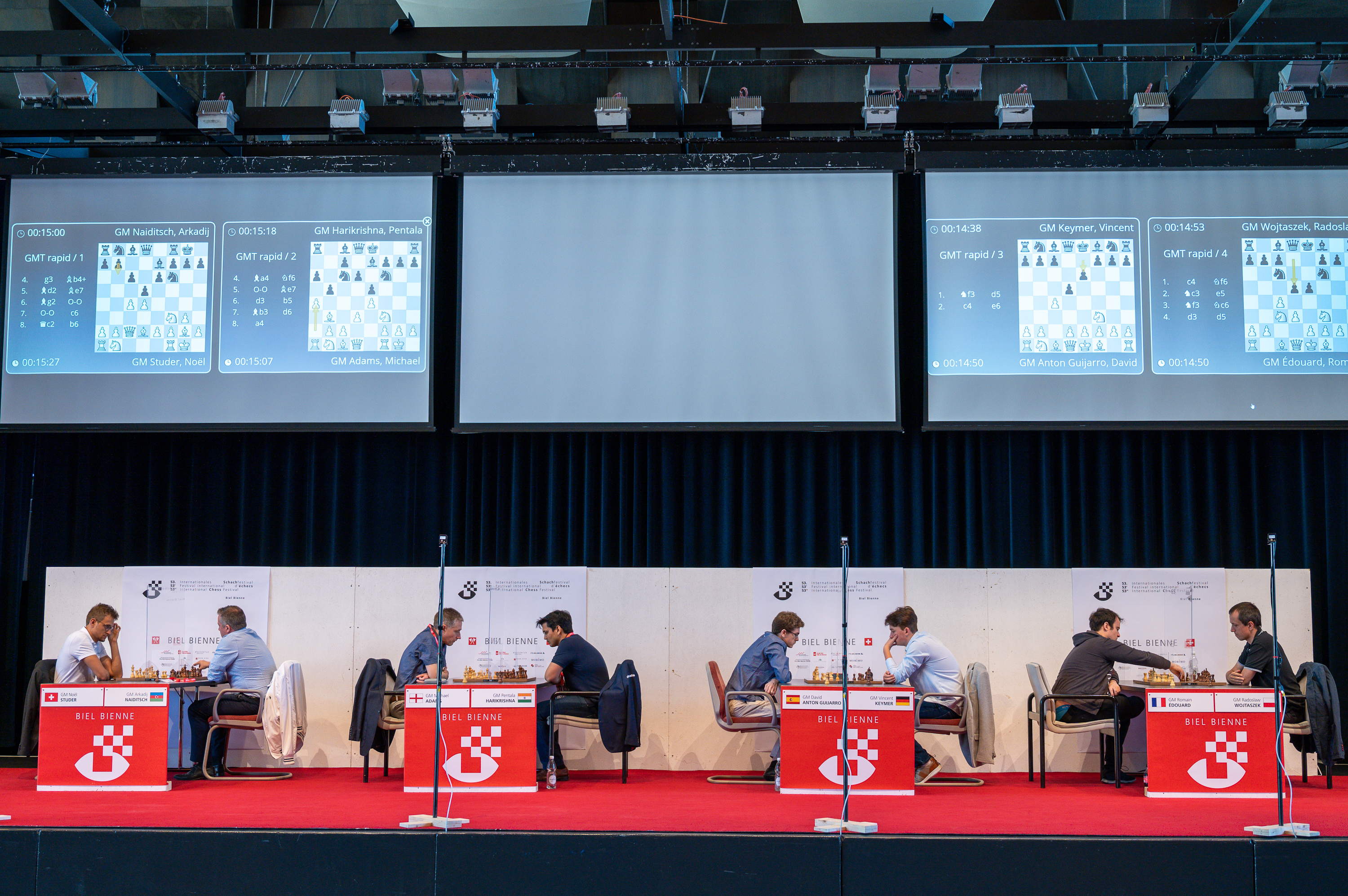 Keymer continues to surprise - Antón disappoints
Another strong performance was shown by young German Vincent Keymer, who came in second together with Harikrishna. He was only beaten today by Wojtaszek and demonstrated with victories over Adams, Naiditsch, Studer and Antón Guijarro that yesterday's strong performance in the variant of Fischer random chess was no coincidence. Especially the Spaniard David Antón Guijarro cannot be satisfied with his tournament performance so far: As the best placed rapid player of the competition he only reached 6th place among the eight participants both yesterday as well as today.
In retrospect: Harikrishna wins ACCENTUS Chess960
The 53rd Biel International Chess Festival was opened yesterday Saturday in the presence of Christoph Neuhaus, member of the executive council of the canton of Berne, and Dr. William Wirth, representative of the sponsor ACCENTUS.
With 5.5 out of 7 points and no defeat, the Indian Grand Master Pentala Harikrishna won the ACCENTUS Chess960-tournament. He benefited from the stumble of Radoslaw Wojtaszek from Poland, who was previously on a par with him and surprisingly lost to local hero Noël Studer in the last round. An exclamation mark was set by the only 15 year old German Vincent Keymer, who after a strong performance finished yesterday's Fischer random chess tournament in second place.
Without spectators
One of the measures that the organizers have included in their Corona protection concept is strict access control to the venue. To ensure that there are never more than 300 people in the Biel Congress Centre, unfortunately no spectators are admitted to this year's edition of the chess festival. However, the games can be followed online on the festival's homepage, accompanied by the comments of Australian grandmaster Ian Rogers: https://www.bielchessfestival.ch

Pictures of the Biel International Chess Festival are available under the following link: https://www.flickr.com/photos/143150736@N02/albums