The Congress Centre of Biel remains active this weekend despite the end of the mutli-day tournaments of the Biel Chess Festival yesterday. Today, the Swiss Blitz Championship took place. The tournament was open to all and gathered 116 players: 96 Swiss players and 20 foreign players, for 13 nationalities represented! Finishing second overall with 11/13, Gabriel Gähwiler was crowned Swiss champion! Romain Edouard (FRA) won the tournament with a perfect score of 13/13, and José Antonio Herrera Reyes (ESP) completed the podium with 10/13. Noah Fecker (9½) and Patrik Grandadam (9) are respectively second and third best Swiss players. On Sunday, the fast tournament, the Swiss Rapid Championship, is on the way! The double for Gabriel Gähwiler and Romain Edouard? The verdict tomorrow evening...
Swiss Blitz Champion 2022
IM Gabriel Gähwiler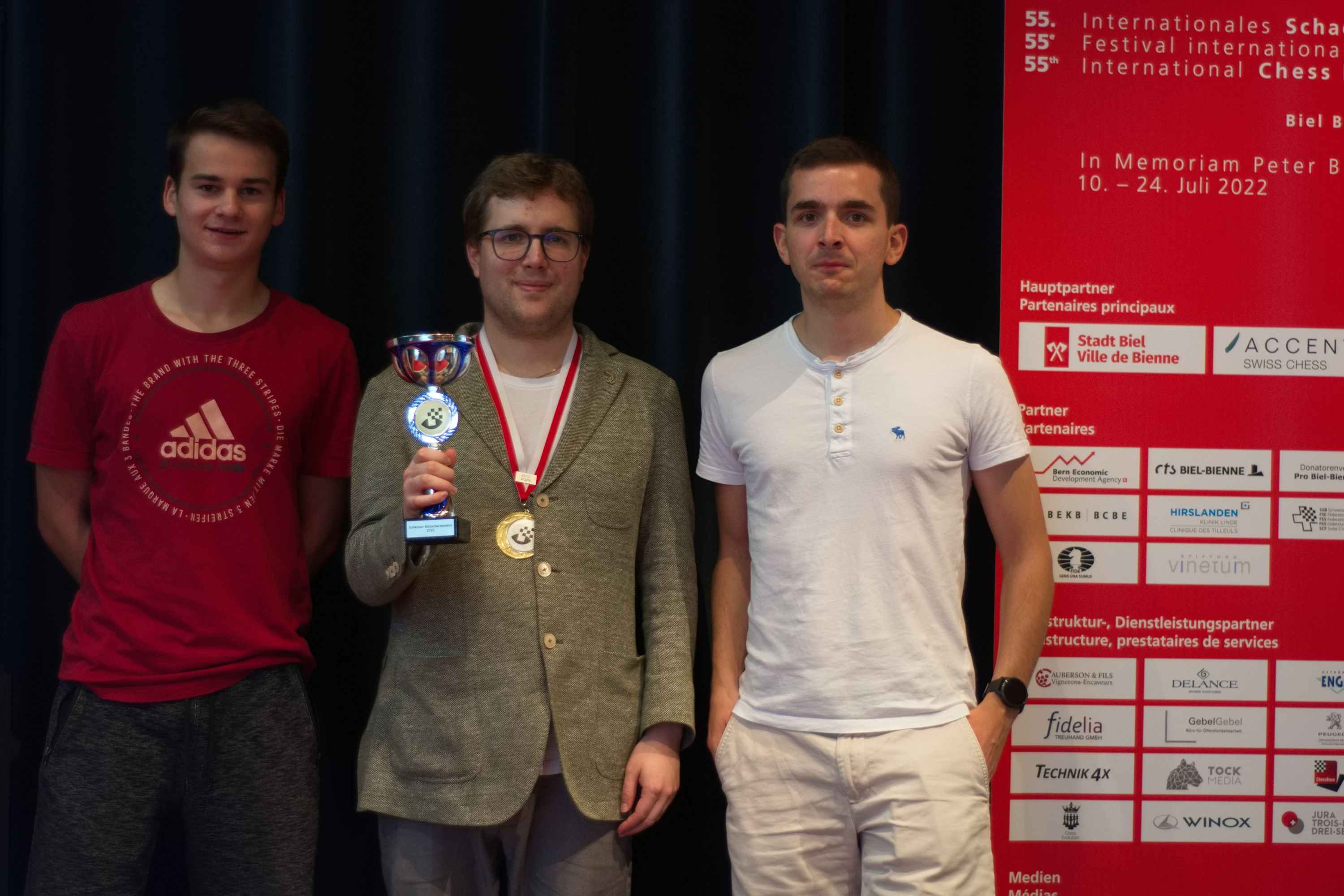 Podium Swiss Blitz Championship
GM Romain Édouard (FRA)
IM Gabriel Gähwiler (SUI)
FM José Antonio Herrera Reyes (ESP)
Full Ranking Swiss Blitz Championship:
https://chess-results.com/tnr652544.aspx?lan=1&art=1&rd=13
Brain Battle and Generation CHess: two tournaments of a special kind
Late last night - after the ceremonial honouring of the great winners was over - an event of a special kind took place: The Brain Battle Chess vs. Poker: four chess grandmasters competed with four top poker players. First in a game of chess (in which the poker players were given more thinking time), the winner of which was then able to enter the poker round with a bigger stake. In the end, the winner at the poker table was a chess player: the Bernese grandmaster Noël Studer.
Another new kind of tournament took place this morning at the Biel Congress Centre: Generation CHess, a format created by the Swiss Chess Federation. Two people from different generations play as a team - for example, mother and son or grandfather and granddaughter. Team Burri won the tournament with 4 out of 5 possible points, ahead of teams Bex and Künzli.
Outlook: Swiss Rapid Championship for the end of the festival
After two eventful weeks, the 55th edition of the Biel Chess Festival is coming to an end. The Swiss Rapid Championship is on the programme for tomorrow's finale.
Note for media representatives: The OC will send out a final communiqué on Sunday with a summary of the 55th Biel Chess Festival.

Pictures of the Biel International Chess Festival are available under the following link:
https://www.flickr.com/photos/143150736@N02/collections/72157720866132786/