Today, on International Chess Day, the Special Corona Amateur Tournament started in Biel, while the grand masters enjoyed their rest day on a beautiful summer day. It is with great satisfaction that the organizers of the Biel International Chess Festival are able to be the first to propose a tournament of this scale on the international scene in this period of relaxations. Furthermore they are also glad to contribute, this summer again, to the animation of the watchmaking city. The first round of the tournament did not bring any big upsets to light.
The Corona Amateur Tournament (C-HTO) combines the normally held general tournament with the master tournament. The participants are accordingly diverse: besides many young hopeful talents, three grandmasters have also registered for the tournament: Christian Bauer (FRA, Elo 2623), Bilel Bellahcene (ALG, Elo 2502) and Sebastian Siebrecht (GER, Elo 2429). There were no big surprises in this first round.
Due to the protective measures taken, the number of participants had to be limited to 150. 135 registered participants, about half of them from outside Switzerland, prove that even under extraordinary circumstances the wish to play chess with physically present opponents is big. The tournament is scheduled to be played over nine rounds and will end on July 29th.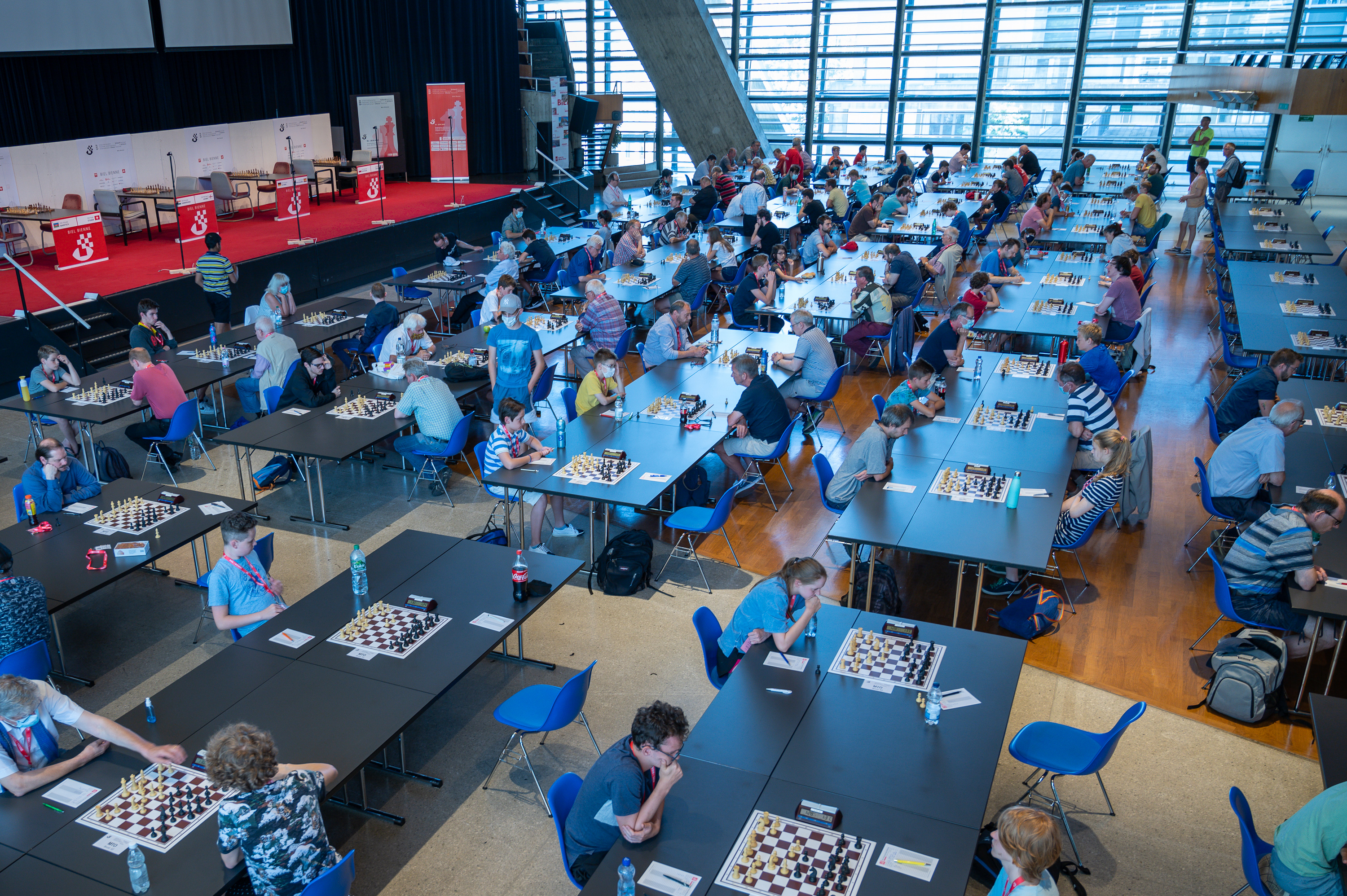 Positive interim conclusion
The 53rd Biel International Chess Festival has really taken off with two intensive tournament days of grandmasters rapid chess and the start of the C-HTO today. The holding of the festival is also an important signal to the region. "We are glad that even in these extraordinary times we are able to organize an event with the Chess Festival that attracts people from half of Europe to Biel," said OC President Peter Bohnenblust.
The protective measures taken against the corona virus have not yet had any significant impact on the games. However, the regular cleaning of pieces, chess clocks and chess boards means a not inconsiderable amount of extra work for the organising team. "A big thank you goes to the hard-working helpers in the background, who are making a special effort this year," adds Bohnenblust.
Grand Master Tournament
After today's rest day, the grandmasters will play their first classical game tomorrow. Two Elo 2700 players, Pentala Harikrishna and Michael Adams, will face each other. Vincent Keymer, who has been a surprise so far, will play with white against David Antón and surely is keen to confirm the strong impression left so far, leader Radoslaw Wojtaszek will meet Romain Édouard. For the local Noël Studer, last in the standings after the rapid games, tomorrow's task will not get easier: He starts with black against Arkadij Naiditsch. As a remdinder: victory in the classic games brings 4 points. An exploit of the Swiss would thus be a considerable boost!
The games of the grand master tournament can be followed online on the festival's homepage, accompanied by the comments of Australian grandmaster Ian Rogers: https://www.bielchessfestival.ch
Pictures of the Biel International Chess Festival are available under the following link: https://www.flickr.com/photos/143150736@N02/albums