The International Chess Festival started today in the Biel Congress House – for the 54th time in uninterrupted succession. Despite the challenging circumstances, the organisers are pleased to be able to again offer the chess world on-site chess this year. After the opening ceremony, the ACCENTUS Chess960 contest among the eight participants of the Grandmaster Tournament took place in the afternoon. The Russian Grandmaster Kirill Alekseenko won this tournament, which could be decisive in the event of a tie on points at the end of the festival.
At the opening ceremony, Peter Bohnenblust, President of the Organising Committee, emphasised the pride of the organisers in hosting the Biel International Chess Festival for the 54th time in uninterrupted succession. He thanked the supporters and partners for their valuable commitment. The new Central President of the Swiss Chess Federation, André Vögtlin, also welcomed those present and emphasised the importance of the Biel tournament for chess in Switzerland.

Unlike last year, a simultaneous tournament was held again this year as part of the opening ceremony. The Indian grandmaster Karthikeyan Murali (Elo 2606), who stays in Biel for the fifth time and will take part in the MTO master tournament from Monday, faced 18 chess enthusiasts at the same time in the foyer of the BEKB on Zentralplatz. Among them was Central President Vögtlin and the former president of the Swiss Federal Supreme Court Ulrich Meyer. In the end, they all stood no chance, and after exactly 90 minutes, Murali defeated the last challenger.
Alekseenko wins ACCENTUS Chess960
The eight grandmasters participating in the Grandmaster Tournament started the Biel Festival today with the ACCENTUS Chess960 competition. This does not count in the actual ranking of the Grandmaster Tournament, which starts tomorrow. In the event of a tie at the end of the tournament, however, today's ranking will serve as the deciding factor. In a balanced tournament, Russian GM Kirill Alekseenko prevailed in the end with 4.5 points from the seven games. He was closely followed by Maxime Lagarde (FRA), Boris Gelfand (ISR) and Gata Kamsky (USA). The Swiss Noël Studer started with some difficulties - after five defeats in a row he ended the day with two wins.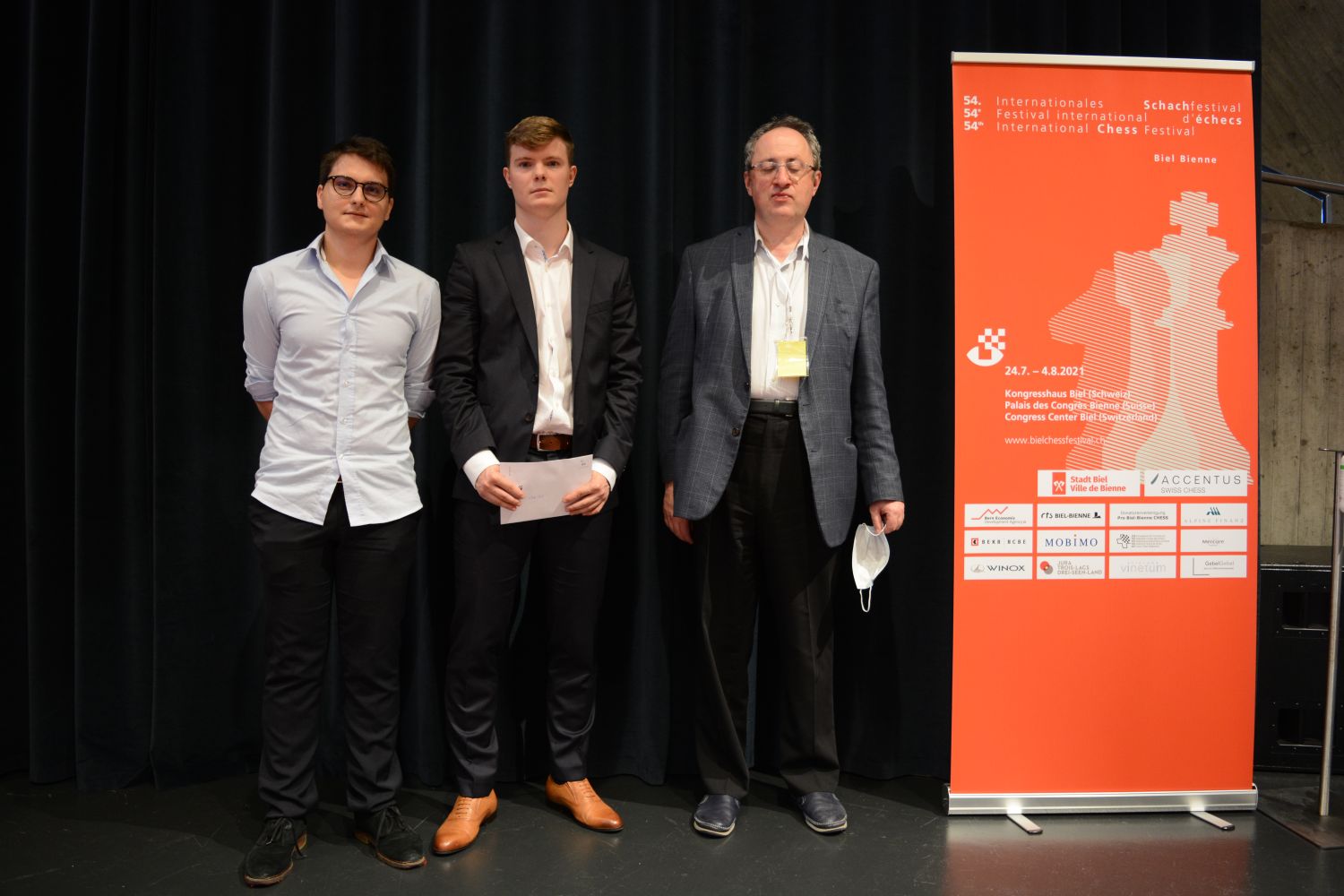 Final Ranking ACCENTUS Chess960
| | | | | | |
| --- | --- | --- | --- | --- | --- |
| Rank | Name | Country | Elo | Games | Points |
| 1 | GM Kirill Alekseenko | RUS | 2699 | 7 | 4.5 |
| 2 | GM Maxime Lagarde | FRA | 2648 | 7 | 4 |
| 3 | GM Boris Gelfand | ISR | 2675 | 7 | 4 |
| 4 | GM Gata Kamsky | USA | 2658 | 7 | 4 |
| 5 | GM Vincent Keymer | GER | 2591 | 7 | 3.5 |
| 6 | GM Nihal Sarin | IND | 2620 | 7 | 3 |
| 7 | GM Alan Pichot | ARG | 2630 | 7 | 3 |
| 8 | GM Noël Studer | SUI | 2581 | 7 | 2 |
No spectators, but more online than ever
In addition to the opening of the Grandmaster tournament GMT with the seven Rapid games, the four-day final tournament of the Swiss Youth Championships will also begin in Biel tomorrow. Due to the protection concept, unfortunately no spectators are allowed in the entire building this year. Instead, the organisers have expanded their online offer: In addition to the grandmaster games, all games of the Masters Tournament and also some of the Amateur Tournament can be followed live this year. Those interested can find all the corresponding streams at:
https://discord.com/invite/EQJCUBwD

Pictures of the Biel International Chess Festival are available under the following link: https://www.flickr.com/photos/143150736@N02/albums