While the participants in the Grandmaster Tournament are enjoying a day of rest, the open tournaments at the Biel Chess Festival have started today. The Master Tournament has an extremely strong field of participants: 27 Grandmasters are taking part, twelve (!) of them with an Elo rating of over 2600, furthermore 13 IM (International Masters) are present. The first round of the Amateur Tournament was also played today, which is completely booked up with 120 participants.
The organisers are particularly pleased that 29 women are taking part in the two tournaments this year. Female players are unfortunately still strongly underrepresented in chess. To encourage them, the organisers have with the support of FIDE significantly increased the prize money for the best ladies.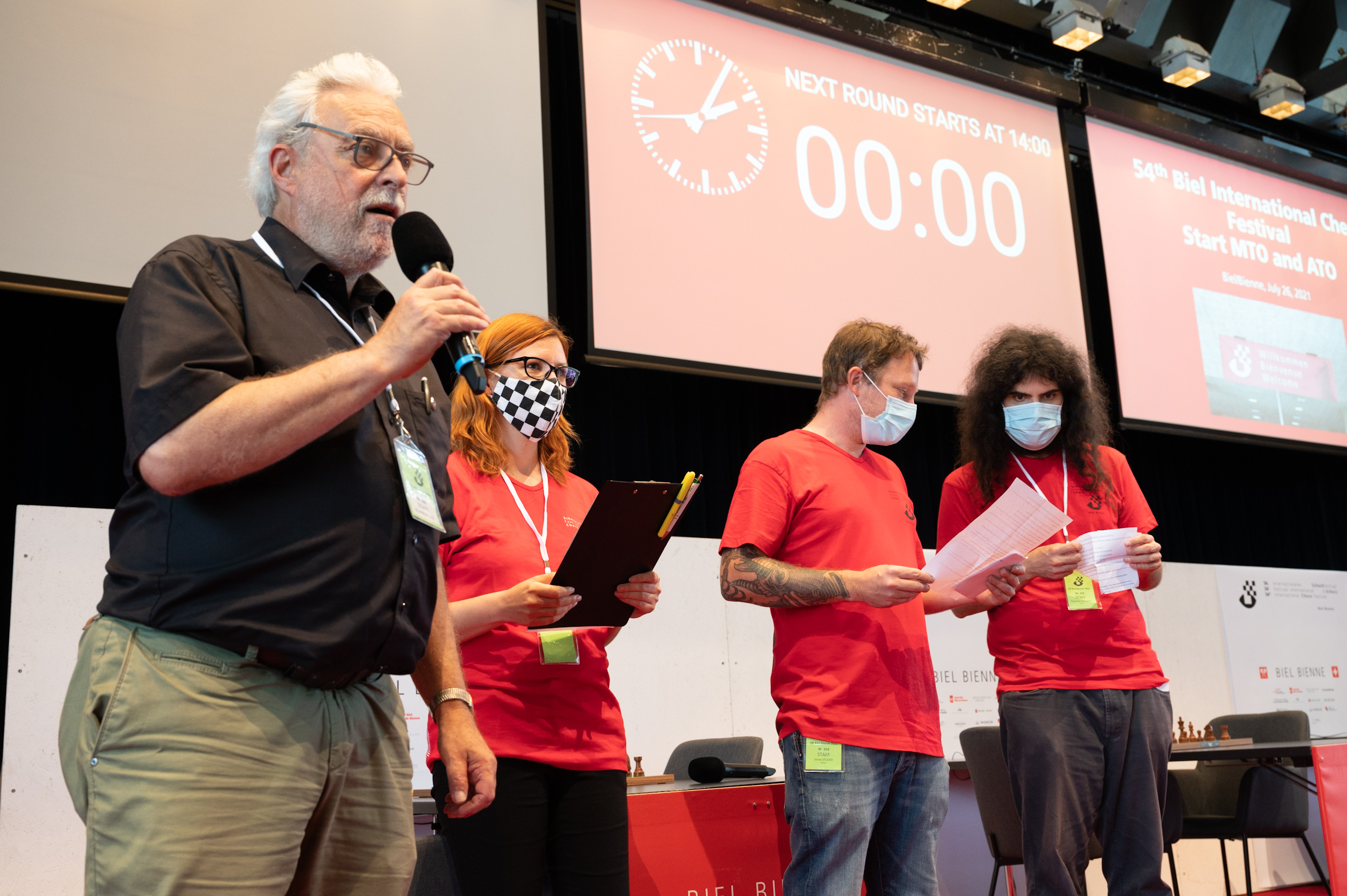 Top-class Master Tournament MTO
This year's Master Tournament presents itself impressive: The opportunity to play chess at the board again has attracted numerous strong players to Biel. The grandmasters Salem Saleh (UAE, Elo 2682), Pavel Eljanov (UKR, Elo 2671) and Alexander Donchenko (DEU, Elo 2652) start the tournament as favourites. However, the 15-year-old Indian prodigy Rameshbabu Praggnanandhaa (Elo 2608) is also worth keeping an eye on - originally scheduled for the Grandmaster Triathlon, he has now made it to Biel late on Sunday evening for the Master Tournament after being eliminated from the Chess World Cup in Sotchi. A total of 73 participants from 18 countries and four continents will compete over nine rounds until 4.8.2021 and play for a total prize money of CHF 39,000.
Fully booked Amateur Tournament ATO: 120 participants
The Amateur Tournament, which had to be limited to 120 participants due to the restriction of persons in the playing hall, is also filled to capacity. The amateurs with a rating of up to 2050 Elo will also play nine rounds of classical chess over the next ten days. Two thirds of the participants play for Switzerland, but with 14 people the United Arab Emirates and with 10 Germany are also well represented. Here, too, chess enthusiasts from all over the world are playing alongside the many Europeans, with participants from the USA, India or Brazil.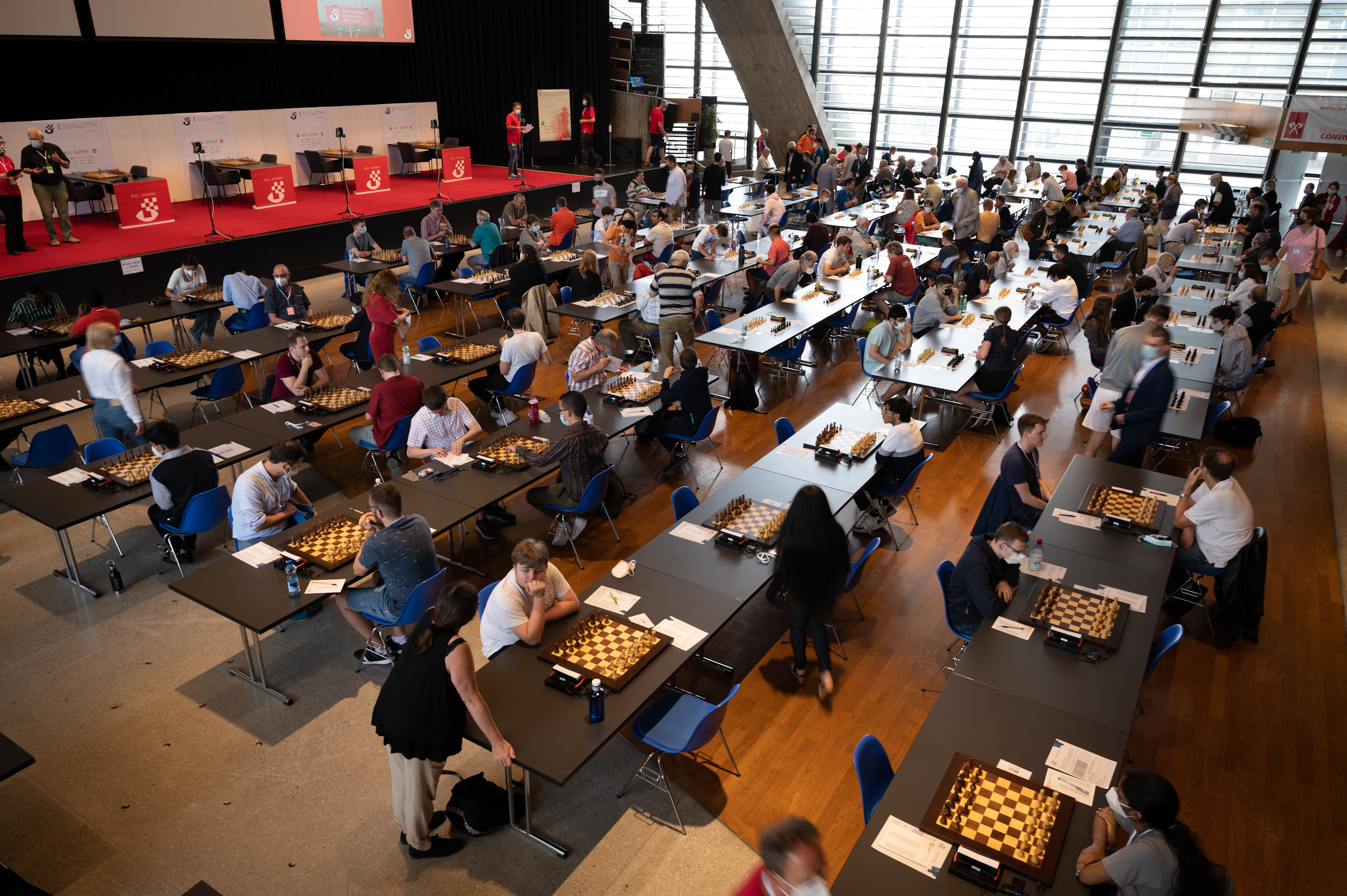 First full matchday tomorrow
Tomorrow, Tuesday, the Congress centre in Biel will be in full swing for the first time: the first round of classical chess will take place at the Grandmaster Tournament: The dominator of the Rapid games, Gata Kamsky, will play with white against local hero Noël Studer and the winner of the ACCENTUS Chess960 event, Kirill Alekseenko will meet the current overall runner-up Nihal Sarin. There will be a full round at the MTO and ATO, and rounds five and six at the Swiss Youth Chess Championships.
Due to the protection concept, unfortunately no spectators are allowed in the entire building this year. Instead, the organisers have expanded their online offer: The Grandmaster Triathlon is broadcasted online with live commentary. In addition, all games of the Masters Tournament and also some of the Amateur Tournament can be followed live this year... once all technical problems have been eliminated. Those interested can find all the corresponding information on:
https://www.bielchessfestival.ch/Contacts/Media1.html
https://discord.com/invite/EQJCUBwD

Pictures of the Biel International Chess Festival are available under the following link: https://www.flickr.com/photos/143150736@N02/albums