This year's Grandmaster Triathlon Tournament in Biel began today with the Rapid games as the first discipline. Russia's Esipenko put in a convincing performance, but was outplayed in the last round in a direct duel by Lê Quang Liêm from Vietnam. Last year's Biel winner Gata Kamsky did not fare well at all and is ranked last. At the same time, the eight participants of the Ladies ACCENTUS Quadriathlon also started play today – they too in the Rapid discipline, in which Zhuang Yongzhe (SUI) and Juliette Cornileau (FRA) were the day's winners. The open day tournament in Rapid was won by Maxime Lagarde from France, ahead of Eduardo Iturrizaga Bonelli (ESP) and Yu Yangyi (CHN).
Russian Esipenko, absent from the Chess960 tournament, looked set to win the rapid event of the GMT outright thanks to a stunning start at 5 of 5 possible points.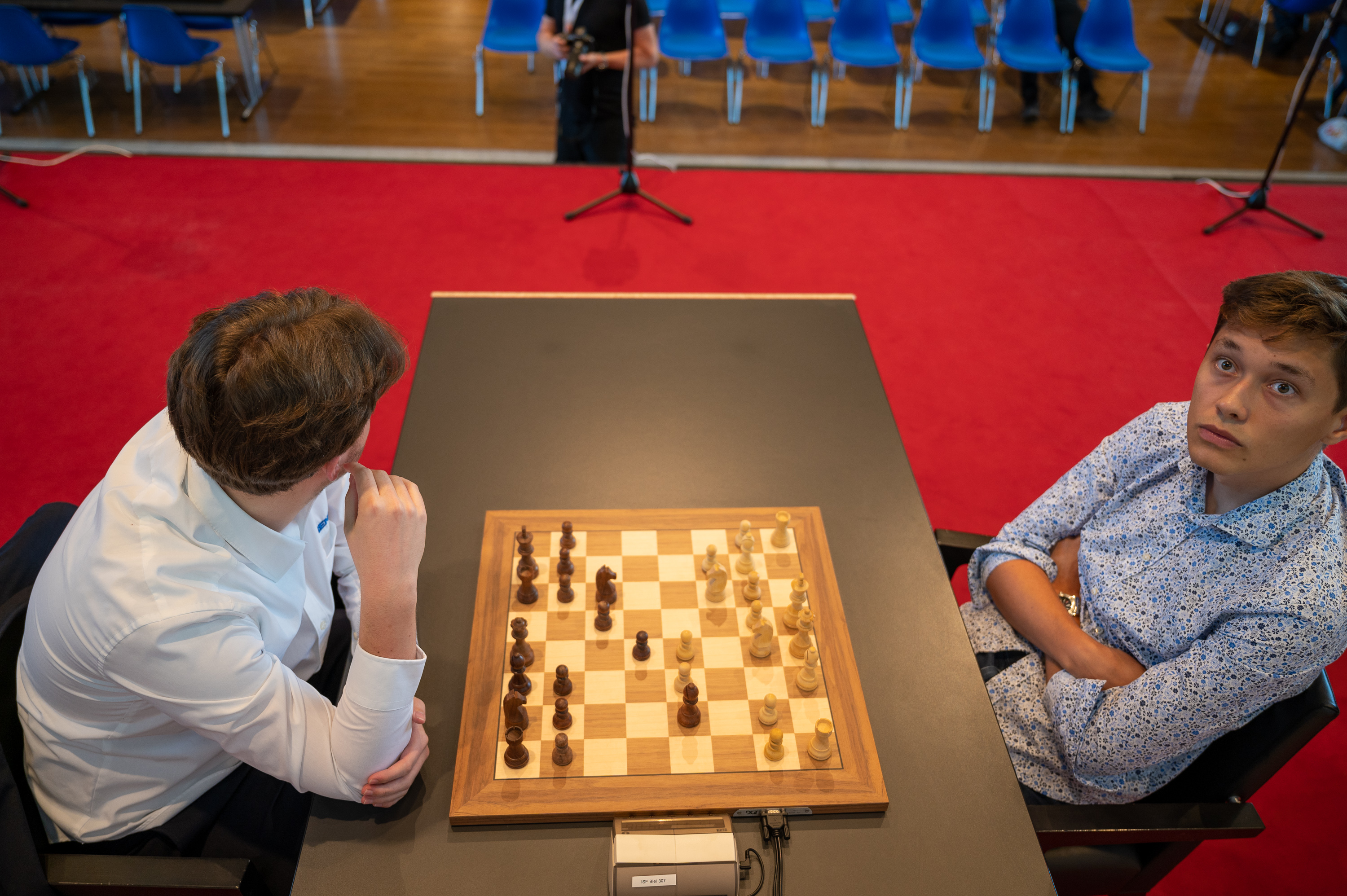 The only player who could overtake him was Vietnam's Lê Quang Liêm, who not only had to win his last two games (including the one against Esipenko in the last round), but also had to hope that the leader would fall in the penultimate round. All this happened! Lê defeated Naiditsch with Black in round 6 (on time in a lost position!), and Esipenko succumbed to Abdusattorov. The Vietnamese player then found himself with a "match point" in the last round against Esipenko with White. The position was even, but the Russian cracked and it was Lê who emerged victorious with 5.5/7!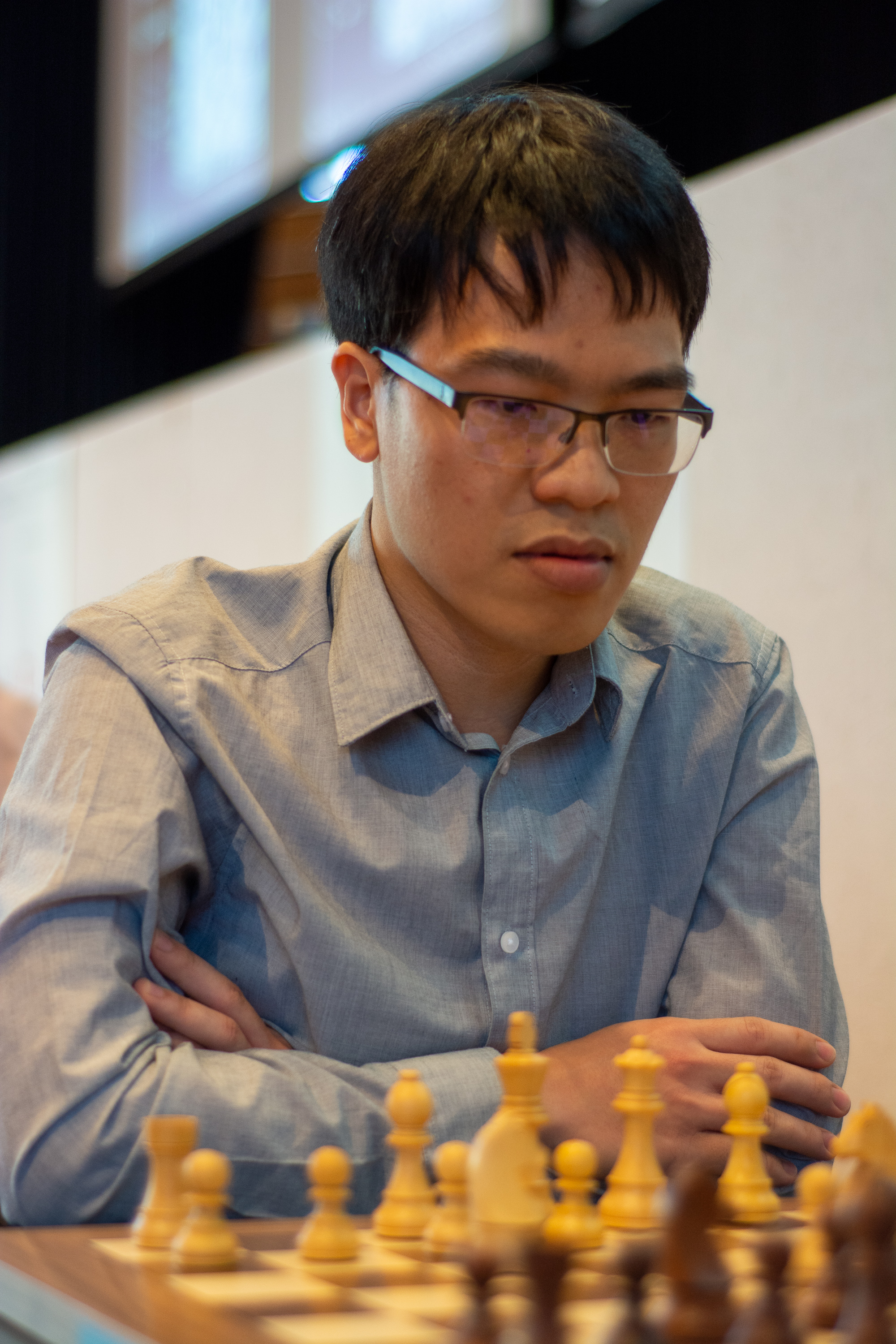 Of course, Esipenko did not fall far behind, second of the day with 5 points. The podium is completed by Abdusattorov, with 4,5/7, who confirms his good performance of the day before in Chess960. We sure will have to keep an eye on the youngest in the coming days of this Triathlon 2022! The winner of the Chess960, Vincent Keymer, missed his day badly with a penultimate place (2,5/7), while Gata Kamsky suffered even more, finishing last with only half a point on seven.
A great show to come for this Triathlon which gathers all the qualities of a chess tournament: fight, youth, sportsmanship, show! What more could you ask for?
GMT: Interim Ranking
| | | | | | | | |
| --- | --- | --- | --- | --- | --- | --- | --- |
| Rank | Name | Country | Games | Classic | Rapid | Blitz | TOTAL |
| 1 | GM LÊ Quang Liêm | VIE | 7 | | 11 | | 11 |
| 2 | GM Andrey ESIPENKO | RUS | 7 | | 10 | | 10 |
| 3 | GM Nodirbek ABDUSATTOROV | UZB | 7 | | 9 | | 9 |
| 4 | GM Dommaraju GUKESH | IND | 7 | | 7 | | 7 |
| 5 | GM Salem Saleh | UAE | 7 | | 7 | | 7 |
| 6 | GM Arkadij NAIDITSCH | AZE | 7 | | 6 | | 6 |
| 7 | GM Vincent KEYMER | GER | 7 | | 5 | | 5 |
| 8 | GM Gata KAMSKY | USA | 7 | | 1 | | 1 |
Maxime Lagarde wins Biel Rapid 2022
78 opponents determined a winner over nine rounds in today's one-day Rapid
Tournament in Biel. This year's tournament was won by GM Maxime Lagarde (FRA) with 7½ points out of a possible 9. The Frenchman, who finished last year's Grandmaster Triathlon GMT of Biel in fourth place, relegated GM Eduardo Iturrizaga Bonelli (ESP 7 ½/9) and GM Yu Yangyi (CHN, 7/9) to the following places. An unbelievable level for a rapid open to all: it is rare to see players at 2700+ like Yu Yangyi playing! Once again, the Biel Festival 2022 is a treat for the spectators.
Kick-off of the Ladies' ACCENTUS Quadriathlon
Parallel to the GMT, the ladies of the ACCENTUS Quadriathlon also started play today. They, too, competed in seven rapid games, which are the first of the four disciplines of their tournament. In a close race, Zhuang Yongzhe from Switzerland and Juliette Cornileau from France shared the day's win with five points each, ahead of Iris Ciarletta (FRA) half a point behind.
Outlook: Start of the Master and Amateur Tournaments
Tomorrow, Wednesday, the large hall of the Biel Congress Centre will fill up for the first time: The two open tournaments, the Master Tournament MTO and the Amateur Tournament ATO, will start their first round. Over nine rounds in the classical cadence, a total of almost 300 participants will compete at the chess boards until July 22nd.
The GMT grandmasters will have a rest day tomorrow, during which they will gain an insight into the art of watchmaking at the Omega watch factory. The players of the women's ACCENTUS Quadriathlon will compete in seven games of Chess960.

Pictures of the Biel International Chess Festival are available under the following link:
https://www.flickr.com/photos/143150736@N02/collections/72157720866132786/