One year, since his victory at the Grandmaster Tournament in Biel 2022, he has not taken part in any rated competition. But in the last ten days he has shown that he still belongs to the absolute top of the world: Lê Quang Liêm wins the Grandmaster Triathlon at the Biel International Chess Festival 2023. In the last round a draw against David Navara, who finished the tournament in third place, was enough for him to do so. Lê benefited from Vincent Keymer losing his last game against Arjun Erigaisi after a long struggle. The decision was also made in the Main Tournament, which Alexey Khanabiev won, and the Amateur Tournament, which Thomas Mani won.
The outcome of the tournament is bitter for Vincent Keymer, although in his fourth participation he achieved his best placing in the Biel Grandmaster Tournament with second place. But a draw would have been enough for him, who went into the last round as the leader, to win the title – but on the final day, of all days, he suffered his first defeat in the classical games, against Arjun Erigaisi, who thus fought his way up to fourth place.
This benefited Lê, who agreed on a draw against Navara after 37 moves by repetition of moves and at that point could not yet be sure what the outcome of his opponent Keymer's game would be. Lê, who now teaches chess for the very largest part, has not played a single competitive game since the 2022 Biel tournament. Nevertheless, he proved to be the strongest player in the field in the classical games with 19 points and thanks to this result will possibly achieve his best ever Elo rating in the world rankings.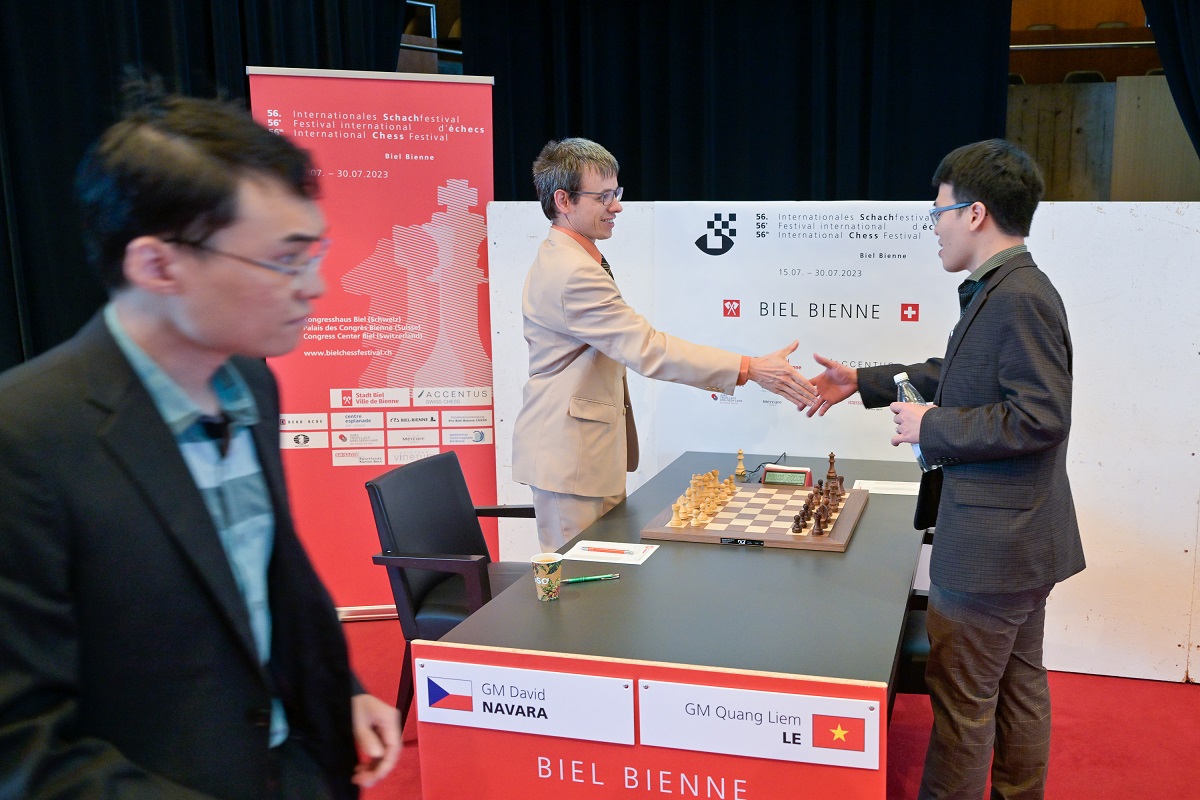 GMT Triathlon: Final Ranking
| | | | | | | |
| --- | --- | --- | --- | --- | --- | --- |
| Rank | Name | Games | Classical | Rapid | Blitz | Total |
| 1 | GM LÊ Quang Liêm | 28 | 19 | 5 | 8½ | 32½ |
| 2 | GM Vincent KEYMER | 28 | 16½ | 10 | 5 | 31½ |
| 3 | GM David NAVARA | 28 | 13 | 10 | 7½ | 30½ |
| 4 | GM Arjun ERIGAISI | 28 | 10 | 5 | 10½ | 25½ |
| 5 | GM YU Yangyi | 28 | 7½ | 9 | 7½ | 24 |
| 6 | GM Jules MOUSSARD | 28 | 10½ | 6 | 7 | 23½ |
| 7 | GM Bassem AMIN | 28 | 8½ | 8 | 3½ | 20 |
| 8 | GM Bogdan-Daniel DEAC | 28 | 9 | 3 | 6½ | 18½ |
Master Tournament: Bu Xiangzhi ahead of Aryan Chopra
Unlike the Grandmaster Tournament, HTO and ATO, only the penultimate round was played today in the Master Tournament and no winner has been decided yet. The favourite remains Bu Xiangzhi, who beat Pranav Anand today and thus continues to defend a half-point lead. His chasing pack has shrunk, however, as only Aryan Chopra of the other top players also managed to win today, this against Samant Aditya S. Behind Bu's 7½ points, Chopra is now the sole chaser with 7 points.
Khanabiev wins Main Tournament, Mani the Amateur Tournament
Decisions were also made today in the last rounds of the Main Tournament HTO and General Tournament ATO. Winner of the HTO, held this year for the first time after a break of several years, is Alexey Khanabiev from Belarus. He remained undefeated over all nine rounds, played only three draws and thus finished the tournament with 7½ points. With 7 points each, Michal Mirski (POL) and the best Swiss Lukas Oestmann from Münsingen follow in second and third place. The best junior, the German Shourya Vihan (born 2009), followed immediately behind in fourth place, and the best woman was Long Siyu (CHN) in sixth place.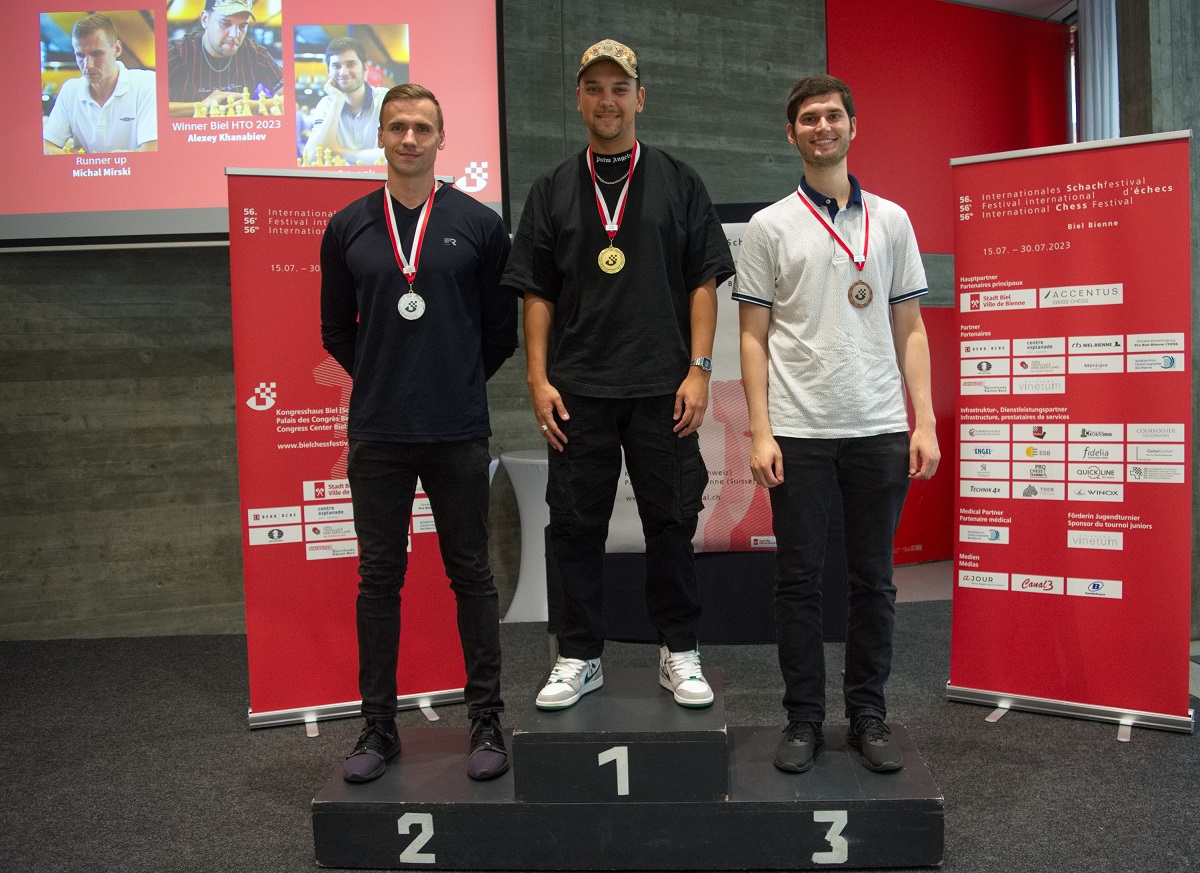 Ranking HTO: https://chess-results.com/tnr764427.aspx?lan=1&art=1&rd=9
The Amateur Tournament was won by Thomas Mani (SUI), who won eight of his nine games. The only defeat came against compatriot Athanasios Zafeiridis, who finished second, one point behind Mani. Furkan Colak from Turkey completes the podium.
Ranking ATO: https://chess-results.com/tnr764428.aspx?lan=1&art=1&rd=9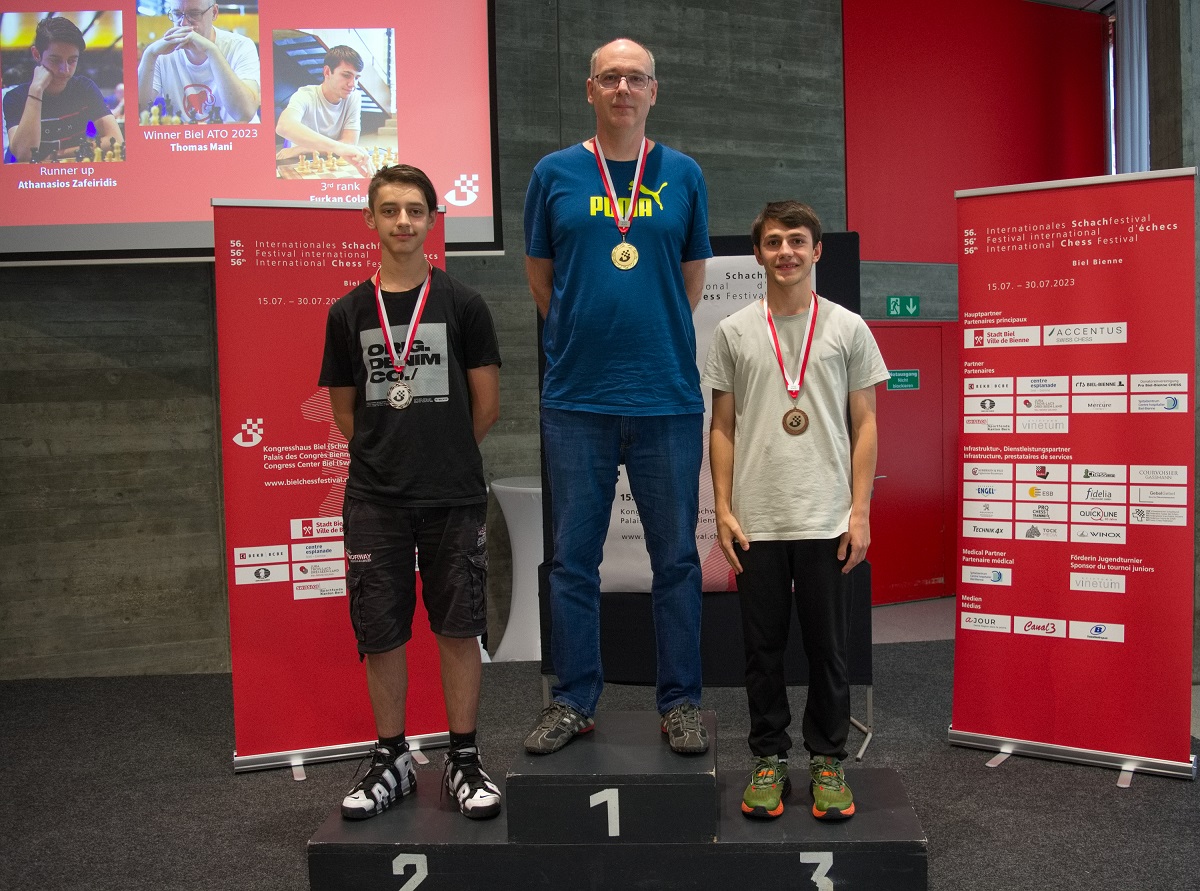 Outlook: It goes on!
After the conclusion of the Grandmaster Tournament, the Biel Chess Festival is not yet over! The Master Tournament MTO goes into a tenth and final round tomorrow. Leader Bu has to play with Black against his compatriot Peng Xiongjian, who is currently ranked fourth, and the first runner-up Aryan Chopra also has to face a compatriot, Rathanvel V S.
After that, the following three events are still on the programme:
Fri, 28.7. 18h00: "Brain Battle Chess vs. Poker": An event in which four chess players meet four poker players. Chess is played first, and the winners then receive a larger stake for the subsequent poker tournament.
Sat, 29.7. 14h00 - 18h30 Swiss Blitz Chess Championship (time per player: 3 min + 2 sec per move)
Sun, 30.7. 9h45 - 19h00 Swiss Rapid Chess Championship (time per player: 15 min + 5 sec per move)
Important: The public award ceremony for the winner of the Grandmaster Triathlon will take place on Thursday, 27.7.2023 at 10:30 am in the Biel Congress Centre. An aperitif will be served following the closing ceremony.
Beauty Award Round 8 MTO, HTO, ATO
Winner MTO: FM Moritz Weishaeutel vs. IM Read Samadov 0-1
Winner HTO: Hans-Georg Kleinhenz vs. Dominique Wiesmann 0-1
Winner ATO: Ernst Linder vs. Helmut Löffler 1-0
Games of the winners: https://www.bielchessfestival.ch/Tournaments/Open-Tournaments/ISF-Beauty-Awards/Day-8.html
Pictures of the Biel International Chess Festival are available under the following link: https://www.flickr.com/photos/143150736@N02/collections/72157721909678547/
On the evening of each day of the Festival, the OC sends out a media report on the day's events.